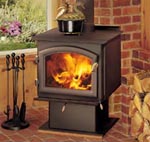 Stoves and Inserts
We'll install a beautiful stove or insert to accommodate your existing chimney or fireplace. You can choose either a gas, pellet, or woodburning model, each in an assortment of styles.
Here are a few of our most popular makes and models:
Quadrafire®
| | |
| --- | --- |
| Mt. Vernon Pellet Stove | Santa Fe Pellet Stove |
| | |
| Classic Bay 12001 Pellet Insert | Santa Fe Pellet Insert |
| | |
| 3100-I Woodburning Insert | 2700-I Woodburning Insert |
| | |
Heat & Glo
| | |
| --- | --- |
| FB-GRAND Gas Insert | FB-IN Gas Insert |
| | |
Napoleon
| | |
| --- | --- |
| 1100C Woodburning Stove | EPI-1101P Woodburning Insert |
| | |
Gas Log Sets

Whether you are converting your fireplace from woodburning to gas, or you are simply replacing your existing set, we can install a variety of attractive Firegear vented and vent-free gas logs. Each Firegear Burner System is leak-tested and burned at the factory before shipping. Choose from natural gas or liquid propane.

We are an authorized dealer of Firegear gas logs. Contact us to receive a personalized price quote for these exceptional products!
European Copper™ Chimney Pots

If you want to create a truly remarkable effect on your chimney, we can install a European Copper Chimney Pot. These stunning chimney covers are available in five distintive styles and offer unparelleled protection against animals, rain, snow, and sparks while also improving your chimney's draft.
Exhausto Fan

Cure your chimney's poor draft with a low energy, motorized fan mounted atop your chimney. This air-cooled, maintenance-free fan includes a screen to keep out birds and other animals.
Stainless Chimney Cap

A HomeSaver® Pro™ Professional Model Stainless Chimney Cap will protect your chimney from water, snow, and animals while providing a clean, attractive appearance. Every part of this professional-grade chimney cap is 100% 304 stainless steel, and it is available in seven different sizes.
Chase Cover

An EverGuard™ Chase Cover can help protect your home. This is a metal cover on top of a wooden or masonry chimney chase structure.

For more information on the EverGuard™ Chase Cover, visit their website at http://www.everguardchimney.com/solCovers.htm.
Energy-Saving Dampers

We can reduce your home heating bills by installing a new damper. These dampers mount on top of your chimney.

The Chim-A-Lator® Deluxe Top Ceiling Damper (top right) has proven for over 30 years to be the most trouble-free top-sealing damper on the market. It mounts on top of a masonry chimney and is operated by a convenient 6-position lever for precise draft control. The Chim-A-Lator Deluxe is a cap and damper all-in-one unit. It's 100% stainless steel and has a lifetime warranty.

For your convenience, we also install the ENERGY TOP damper, which is attached to the top of the chimney's flue tile liner. In the closed position, it is virtually invisible from the ground. This damper provides a tight, gasketed fit that seals in your heat and seals out weather, insects, birds, and animals.
Combustion Air Vent

We can install a combustion air vent that will economically improve the efficiency of your fireplace. This unit draws cold air from outside the home and generates the proper environment for combustion using UNHEATED, FREE AIR. Our customers love them!
UL Listed Stainless Steel Chimney Liner

A chimney liner gives new life to unlined or damaged chimneys that otherwise would have to be completely rebuilt. We offer a complete line of chimney liner parts and accessories.

We are proud to offer Forever Flex™ Chimney Lining Systems, the highest quality chimney liners and lining systems available today, with the exclusive Forever Warranty™. This liner is Air & Water Tight.

The Forever Flex™ locks moisture and flue gases in your chimney and keeps them from leaking into your home. Forever Flex™ certified stainless steel liners protect against hostile acids and creosote which break down masonry chimneys and corrode lesser alloys of stainless steel very quickly. These durable lining systems help guard the structure of your home against moisture damage and the very real potential of carbon monoxide poisoning.

Forever Flex™ is made from 316 Ti or AL29-4C stainless steel.
Glass Fireplace Doors

A glass fireplace door protects the area near your fireplace from dangerous sparks and damaging smoke, while also providing an attractive look to your fireplace. We install a variety of classic and contemporary doors to complement the design of your interior.